Mental Health Local Advisory Council

What is the Mental Health Local Advisory Council?
Since 1999, the Beaverhead County Mental Health Local Advisory Council (MHLAC), comprised predominately of consumers, has served to assess, plan, and strengthen behavioral health services for our community. These include both mental and addictive concerns. We are joined by a Program Officer from the Addictive and Mental Disorders Division of state government so that ideas generated can be forwarded to the regional Service Area Authority, the state-wide Oversight Advisory Council, the Department of Health and Human Services, and the Governor's Office.
Our LAC was greatly strengthened in 2013 when we sought recognition under the auspices of the Beaverhead County Commissioners to further validate the importance of our work. By January 2014, we were an official county board with governing by-laws, eleven commissioner-appointed voting members, a Commissioner representative, and elected officers. Our meetings are held the second Friday of every month from 12-2:00 in the Tom Welch meeting room in the County Treasurer's building. Typically, numerous non-voting participants are also present and community members are welcome to attend!
In 2015, the LAC secured a grant from the Montana Healthcare Foundation to promote integrative healthcare across the county. Through this grant, consultants with the National Council on Behavioral Health recognized us as the first project of this type in the nation aimed at county-wide, rather than single-agency, integration.
We now have on-going active committees, task forces, or collaborations working on the integration of behavioral health services into other facets of the community. You do not need to be a voting member, or even attend MHLAC meetings, to participate with these groups. If you are interested, we strongly encourage you to participate in one or more.
Current Task Forces, Committees, and Collaborations:
The ACE Task Force purpose is to increase awareness of adverse childhood experience research and promote trauma-informed approaches in our schools, community groups, and other services. They have conducted over 30 trainings, hosted a Mental Health First Aid course and purchased and disbursed educational material including two documentary films, and reached over 2,000 people in Beaverhead County with their message.
Chair: Melainya Ryan – 683-6106
The Summit Planning Committee organizes a regularly occurring conference event as a resource for education and training targeting providers throughout the region. In 2017, over 130 individuals attended the conference luncheon hosted by the group. The featured keynote speaker was Jessie Close, sister of Glen Close the actress. The theme was Creating a Trauma-informed Community.
Chair: Jerry Girard -683-7181
Universal Screening Promotion supports regular screening for behavioral and mental health issues as a critical piece in heading off mental health crises and identifying suicide risk. We do this by encouraging the incorporation of screening into already existing activities, when appropriate, and hosting supportive conversations to share ideas for best-practice strategies. This effort is responsible for creating our online providers resource list now regularly updated by the Women's Resource and Community Support Center.
Chair: Lynn Weltzien – 683-6858
The Resilience Oriented Community Curriculum (ROCC) Committee seeks to change the culture of mental healthcare in our community. We do this by raising awareness of mental health challenges, increasing skills to respond and identifying needed resources.  This committee is currently developing the multi-lesson curriculum and will begin presenting to businesses, community groups and other individuals before the end of 2019.
Chair:
The Howard Gaines Community Service Award Committee accepts nominations and chooses a community member to honor each year for their service in promoting behavioral healthcare.  We believe scholarships and awards, such as this, bring visibility not just to the honored person for their significant contribution but also highlights the importance of this work.
Chair: Katherine Buckley-Patton – 406-660-1637
The Public Relations Committee works to raise public awareness of programs, events, and information about mental health. It maintains our Facebook page, works with the county on our web presence, and coordinates other media and public relations materials.
Chair: Melainya Ryan – 683-6106
In addition, we participate in the following collaborations:
– Women's Resource/Community Support Center for Suicide Prevention Week events, Contact: Brylee Zumpf – 683-6106
– UMW for the Behavioral Health Career Camp, Contact: Beth Wharton – 683-7308
– Mental Health Alliance of Montana for the Children's Mental Health Initiative, Contact – Lynn  Weltzien – 683-6858
Former Task Forces, Committees, and Collaborations:
The Criminal Justice Task Force is exploring new ways to integrate behavioral health programs within our city and county criminal justice systems. They collaborate with our sheriff, judges, and police officers to promote more training for officers, provide screening and treatment of current inmates, and researched jail diversion programs for possible future implementation.
The Mental Health Crisis Committee engages in continued improvement for mental health crisis management in our community. Utilizing the findings of a local survey as a foundation, this group has made great strides in improving communication, transportation, telehealth access, contract review, and policy revisions related to service delivery. But there is more work to be done, as they now seek to diminish the number of crises occurring before they begin.
Behavioral Health Service Provider's List
Our community offers many choices for behavioral health (mental and addictive) type services. To help the community understand all of the resources available, the MHLAC comprised a list of all the licensed providers serving Beaverhead County residents. This list indicates whether practitioners serve adults or children, what services they specialize in, what types of payment they can accept, how long you can expect to wait, and how to contact them for appointments. This list is updated on a monthly basis by Brian Wheeler at the WRC. We are very grateful for this help! This list is currently not available in a mobile-friendly version but can be readily accessed via a computer.
Big Sky Behavioral Health Summit
On two occasions in the past three years, the Beaverhead County Mental Health Local Advisory Council has hosted a two-day conference focused on Integrative Healthcare.
2019 – "Face to Face with Trauma…What's in your toolbox?"
Join us at the Big Sky Behavioral Summit
October 3-4, 2019
University of Montana Western campus, Dillon, MT 
Kevin Briggs, "Guardian of the Golden Gate" 
This California Highway Patrolman's 'active listening' successfully interrupted more than 200 individuals intent on a suicidal jump from the Golden Gate Bridge.
Ijeoma Achara, PhD, "Recovery Oriented Systems of Care"
By focusing on the strength of the person with mental illness and/or addiction, behavioral health systems can move from reactive to a recovery oriented approach. 
Judith Grisel, PhD, "What Neuroscience tells us about Addiction"
A renowned behavioral neuroscientist and recovered drug addict, Judith is an authoritative and accessible guide to understanding drug addiction.
Georgia Kady, RN "Human Trafficking in Montana"
In 2017, nearly 40,000 commercial sex ads in Montana's seven largest cities offered sexual encounters with young women.  It happens here.  Learn the signs.
Karl Rosston, LCSW:  "Caring for Patients with Suicide Risk" 
Benjamin Oosterhoff, PhD:  "An online depression screening"
Mark Schure, PhD & Bill Bryan, PhD:  "THRIVE-Computerized CBT" 
Registration opens soon on Eventbrite:
https://www.eventbrite.com/e/big-sky-behavioral-health-summit-tickets-59786765826 
 Early Bird registration $125 / 13 CEUs
2018 – "Trauma Informed – Now What?"
The Summit once again hosted presentations by regional and national leaders in mental health research and counseling.  The keynote speaker was Olympic basketball champion, Chamique Holdsclaw who told of her personal experience with mental illness. Other speakers included Dr. Judy Cameron: Helping Children Build a Resilient Brain and Impact of Life and Experiences on Brain Development: The Brain Architecture Game, Jerry Girard, LCPC & LAC: "I Got This!" – A Solution Focused Resilience Workshop, Mary Morgan, LCSW: You Matter – Integrating Self-Care Into Your Practice, Melainya Ryan, LCPC & E-RYT: Raising Consciousness – Meditation & Mindfulness Workshop, Dr. Dawn Cureton: How to Use Psychological Testing Reports to Guide and Enhance Therapeutic Interventions, and Vikki Howard, PhD & Erin Butts, MSW: Everyday Strategies to Strengthen Resilience.
2017 – "Creating a Trauma-Informed Community"
On September 6-7, 2017,  the Summit featured exceptional presentations by some of Montana's noted leaders in trauma-informed identification and care of children, substance abuse treatment and recovery models, and innovative interventions in our schools' classrooms. In addition, nationally recognized Jessie Close, author of Resilience: Two Sisters and a Story of Mental Illness, presented the keynote address to about 130 people. Her sister, the famous actress Glenn Close, surprised the crowd with an unannounced appearance to support and introduce Jessie. It was a grand event.
The Howard Gaines Award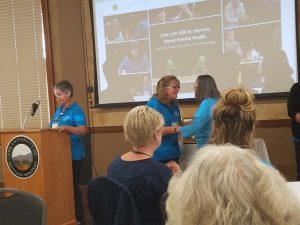 This award honors Howard Gaines, a tireless advocate of mental health for over 20 years.  Howard Gaines was one of the first members of the Beaverhead Mental Health Local Advisory Council and the Western Service Area Authority.  Howard died in 2016. His service to the community has been recognized by a Proclamation of the Beaverhead County Commissioners and the MHLAC establishment of the Howard Gaines Behavioral Health Community Service Award. The award is open to mental health professionals and community leaders who support and enhance the mental wellness of our County. For more information on qualifications and the selection process, please see the link to the nomination form below.
The Howard Gaines Community Service Award Committee received three nominations: Pam Mussard, Valerie Coulter and Lynn Weltzien. This year's winner was Lynn Weltzien. This award was presented September 13th at the Big Sky Behavioral Health Summit.
Former Winners:
2017: Julie Ingram
---
Contact Directory
| Name/Title | Position | Phone | Email |
| --- | --- | --- | --- |
| Jerry Girard | Chair, UMW Rep | 406-683-7181 | Email |
| Jamie Flynn | Secretary | 406-683-3780 | Email |
| Rick Hartz | WSAA Rep, Consumer Rep | 406-925-2020 | Email |
| Tom Rice | County Commissioner Rep | 406-683-6750 | Email |
| Kim Martinell | Consumer Rep | 406-596-1284 | Email |
| Kit Davis | Barrett Hospital/Healthcare Rep | 406-683-3021 | Email |
| Katherine Buckley-Patton | Consumer Rep | 406-660-1637 | Email |
| Jennifer Malone | Community Health Center Rep | 406-683-4440 | Email |
| Heidi Gjefle | Vice Chair, Consumer Rep / UMW | 406-683-7180 | Email |
| Melainya Ryan | Consumer Rep | 406-683-6106 | Email |
| Wallace Arney | Consumer Rep | 406-865-0367 | Email |
| Callie Triller | Consumer Rep | 206-618-6236 | Email |
---
Forms and Documents
---
Gallery