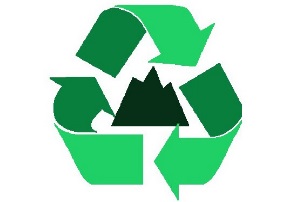 Market downturns dropped plastic, glass, and now cardboard from the list of things you can recycle in Beaverhead County. There are several barriers in place when trying to recycle these materials, such as transportation costs, markets purchasing these materials, and recycling contamination.
What's recycling contamination?  This is when recyclers throw materials into a recycling bin that either can not be recycled or have not been sorted into the correct bin. This causes contamination of the recycling material already in the bin and, depending on the level of contamination, can result in the entire bin being landfilled instead of recycled.
Since glass and plastics aren't currently being recycled, consider purchasing alternative containers and packaging materials that can be recycled. For example, purchase beverages that come in aluminum cans instead of glass bottles, so that the cans can be recycled. Also, asking local stores to carry items that come in recyclable packaging or are biodegradable can aid us in our local recycling efforts. If you have any questions on recycling in Beaverhead County please call the Solid Waste office or contact Beaverhead Recycling at (406) 683-1249 in the evenings.
Like us on Facebook for continuous updates!
Items you can recycle in Beaverhead County
MIXED PAPER AND ALUMINUM & STEEL CANS
Newspaper, office paper, magazines, phone books, all kinds of envelopes, catalogs, paperbacks, plotter paper, etc. & mixed and loose aluminum, steel, and tin cans.  Please put cans in the bins loose.
**Please rinse and crush cans to preserve space in bins and reduce contamination**
Dillon: look for the recycling bins
next to West Electric, 1310 MT-91
Dillon Middle School, the intersection of Sacajawea Dr. & N Oregon St.
Alley south of Sparky's, just off State Hwy 91 S
Landfill will take electronics and white goods (appliances and scrap metal)
Glen: Cans and paper at transfer stations at the interchange on the east side of I-15
Dell: Cans and paper in the bins at the transfer station on Big Sheep Creek Road
Electronics OR EWASTE (no tvs & Monitors)
Laptops, personal computers, cell phones, rechargeable batteries, digital cable & cable boxes, internal components (hard drives, DVD & CD drives, power supplies), servers, circuit boards, scrap memory, all types of electrical cords, network equipment, cables, scanners, printers, keyboards, mice, microwaves, etc.
Dillon:
Landfill, marked bin, 3801 Ten Mile Rd.
CELL PHONES ONLY: Women's Resource/Community Support Center, 221 ½ S Idaho St.
Miscellaneous
PLASTIC BAGS: Safeway only in Dillon. Target, Rosauers, Albertson's, and Walmart stores recycle plastic bags in other cities.
CDs/DVDs/Floppy Disks: Visit CDrecyclingcenter.com for information on how to recycle your old CDs, DVDs, and cases. Visit GreenDisk.com for information on how to recycle floppy disks, pagers, CDs, DVDs, and any small 'technotrash'. Visit FloppyDisk.com for information on how to recycle only floppy disks.
PEPPER SPRAY CONTAINERS: All Beaverhead-Deerlodge National Forest offices have a red recycle box near the front entrance for recycling pepper spray containers
BRITA WATER FILTERS: Visit Brita website to find instructions on how to recycle your water filters
FLUORESCENT LIGHT BULBS: R & R Electric in Butte, 631 Utah Ave, all size tubes for a small fee. Home Depot and Lowes recycle the curly CFLs.