Weed District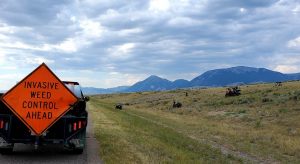 Invasive plant species, or "weeds" are a huge threat to the Beaverhead County landscape, as well as Montana as a whole. Weeds are detrimental to wildlife habitat, water quality, wildlife and cattle forage, and recreation. Invasive weeds outcompete native vegetation, whether by shading, creating a toxicity in the soil, or depleting the water source, which causes a loss in wildlife habitat and forage. Some weeds that grow along streambanks cause erosion, increasing sedimentation that negatively impacts water quality. Other weeds have sticky seeds/burrs that get caught on clothing, hair, and pets, ruining outdoor experiences. It is Montana State law that noxious weeds be managed, and the spread prevented on the landscape.
The Beaverhead County Weed District was founded in 1946 to bring together those responsible for weed management within Beaverhead County to develop common management objectives; facilitate effective treatment and coordination efforts along logical geographic boundaries with similar land types, uses, patterns, and problems species. Cooperators include private landowners, county government, state agencies, federal land managers, other interested agencies, and individuals.
Goals
Prevent the introduction, reproduction, and spread of designated noxious weeds into and within Beaverhead County.
Reduce the extent and density of established noxious weeds to a point the natural resource damage is within acceptable limits and, wherever possible, eradicated.
Implement the most economical and effective weed control methods for the target weed.
Implement an integrated management system using all appropriate methods or combination of methods.
Methods
The Beaverhead County Weed District follows the Early Detection, Rapid Response (EDRR) model. EDRR increases the likelihood that invasive species populations will be discovered, contained, and eradicated, slow the range of expansion, and decrease the need for costly long-term control efforts. A major aspect to EDRR is to utilize integrated weed management (IWM) strategies. IWM is a system planning and implementing methods that prevent, contain, or control noxious weeds. Methods include:
Education/Awareness: Awareness programs develop public understanding of the threats that invasive, exotic plants pose to natural resources.
Prevention/Early Detection: Prevention measures, such as washing equipment or vehicles, are the first line of attack against the spread of noxious weeds. In the long-term, it is more cost effective to prevent weeds from establishing rather than begin treatment after establishment.
Inventory: Inventory provides necessary information for site-specific priority control objectives and for prescribing control methods and objectives.
Treatment: There are a variety of treatment practices that can be implemented on the landscape, depending on target species, geographic location, and environmental attributes. Treatment types include biological, chemical, cultural, and mechanical controls.
Monitoring: Monitoring is the collection of information to determine the effectiveness of management actions to meet the prescribed objectives. Various monitoring techniques can be used, such as EDDMapS, GPS databases, and photo points.

Beaverhead County Weed District is accepting applications for Seasonal Weed Crew positions!

This position involves managing noxious weeds through various integrated weed management practices, such as mixing and applying herbicides, operating a variety of equipment, including ATV/UTVs and trucks pulling trailers, adherence to safety standards, and working outdoors. Applicant must be:
18 years of age as of May 21st, 2021.
Hold a valid driver's license.
Be able to carry 25 pounds over rough terrain.
On the job training will be provided to successful applicants hired for the position. Training will include: noxious weed identification, safety procedures including handling, mixing, and application of herbicides, ATV/UTV driver certification, first aid, and the opportunity to acquire a governmental applicators license. Beaverhead County is an Equal Opportunity Employer.
Pay starts at $10.22-11.26 dependent on ability to obtain governmental applicators license.
To apply: Submit a generic county application to the Beaverhead County Weed Office. The county application will be provided through the job service, can be picked up at the weed district office or found online at https://beaverheadcounty.org/departments/test-page/.
For more information, contact Amber Burch, Beaverhead County Weed Coordinator at 406-683-3790.
FORMS AND DOCUMENTS
OFFICE HOURS
MON – FRI:
8:00 AM – 5:00 PM (Winter Hours)
6:00 AM – 4:30 PM (Summer Hours)
---
PHONE NUMBER
(406) 683-3790
---
FAX
(406) 683-3769
---
ADDRESS
2 South Pacific Street
Dillon, MT 59725
---
ADDITIONAL LOCATIONS
Shop Location
610 South Rife Street
Dillon, MT 59725
CONTACT DIRECTORY
HELPFUL LINKS