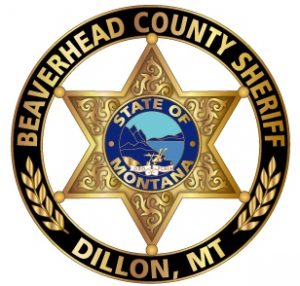 To View Everything Beaverhead County is Doing to Fight COVID-19 in our Community Click HERE
The Beaverhead County Sheriff's Office is a full-service agency responsible for keeping the peace, upholding the state laws within the county, the operation of the jail, emergency dispatch, search and rescue, and civil process. We are also responsible for supporting the courts with security and prisoner transports. We participate in and provide support for the Beaverhead County Tactical Team and the Southwest Montana Drug Task Force. The mission of the Sheriff's Office is to maintain and improve the quality of life within the community by working with all people to preserve life, maintain human rights, protect property and promote individual responsibility and community commitment.
Sign up to receive emergency alerts from the Sheriff's Office using the form below or texting your ZIPCODE to 888777.
Fingerprinting
The Beaverhead County Sheriff's Office provides fingerprinting services, by appointment, to the public. Fingerprints are taken on Saturdays from 1:00 PM – 4:00 PM by appointment ONLY. The cost is $20 for 3 cards. Please call (406) 683-3700 for appointments.
Concealed Weapon Permits
To obtain a concealed weapon permit (CWP) in Beaverhead County you must fill out an application, submit proof of a firearms safety class, and be fingerprinted for the purpose of a background check. The application is available below; please wait to sign the application until you are at the Sheriff's Office so that your signature can be witnessed.
The cost of a CWP is as follows:
New permit – $55.00
Renewal – $25.00
Fingerprinting for CWPs is on Thursdays from 1:00 PM – 4:00 PM by appointment only. Please call (406) 683-3700 to make an appointment.
Concealed Weapons Permit Application
Detention Center
The Beaverhead County Detention Center is responsible for the care and custody of individuals accused of a crime, convicted individuals awaiting sentencing, sentenced inmates awaiting transport and prisoners sentenced to the County Detention Center. The mission of the Sheriff's Office is to maintain and improve the quality of life within the community by working with all people to preserve life, maintain human rights, protect property and promote individual responsibility and community commitment.
Detention Phone: (406) 683-3700 Ext. 3718
Visitation Hours:
Wednesdays: 1:00 PM – 4:00 PM
Fridays: 1:00 PM – 4:00 PM
*Visitation can be canceled at any time without any notice
Dillon Area Siren Sounds
Please listen to the three audio files below. Understanding the difference between the two sounds is crucial in an emergency
The "Noon Siren" is our daily test of the siren. It will sound every day at noon from the sirens located at Search and Rescue and the Dillon Fire Hall. This siren will not sound at UMW.
The "Dillon Fire Dispatched" Siren is sounded when the Dillon Volunteer Fire Department is dispatched for either a fire call or a vehicle accident. Please watch out for emergency vehicles during the time immediately following this siren and remember to MOVE OVER.
The "Disaster/Emergency Tone" will sound in the event of a major emergency in the Dillon area. This could include events such as the failure of the Clark Canyon Dam, a major earthquake or a tornado. Please sign up for emergency text message alerts by texting your ZIPCODE to 888777, you will be notified of what is happening and what you need to do via this system.
Hiring:
Detention Officer – Closing Date: 01/20/2021
Responsible for supervising, observing, transporting, booking, searching, and processing inmates at the Sheriff's detention facilities; and performs related duties as required.
Essential Functions (major duties or responsibilities): These duties are the essential functions and are not all-inclusive of all duties that the incumbent performs.
-Maintain security and monitor movement of persons detained at a Sheriff's detention facility to protect the public and other prisoners. This may include escorting detainees and inmates to court appearances, medical checks, exercise, showers, classrooms, counselor visits, family visits, and other approved appointments at mental hospitals, medical facilities, or clinics.
-Supervise the security and conduct of inmates in housing units during group meetings, meals, bathing, at recreation, during visitations, and during work or other assignments.
-Book prisoners into detention facilities following prescribed procedures: issue clothing and supplies to inmates; process inmate discharges or transfers and arrange for transportation if necessary; write reports and maintain records on standardized forms relating to inmates.
-Visually and physically search inmates for contraband, weapons, or narcotics; inspect inmates' quarters for contraband; inspect and direct cleaning activities of inmates for maintenance of sanitation, orderliness, and safety.
-Promote acceptable attitudes and behavior of inmates to assist them in adjusting to confinement; confer with assigned supervisors or officers regarding behavioral or other inmate's problems; participate in programs designed to prepare inmates for release.
-Perform risk assessments and classify inmates in order that more dangerous or hostile inmates are identified and made known to all staff according to established procedures to minimize risk to county staff and other inmates.
-Anticipate and avert potential problems and assist in suppressing and controlling problems that might occur; report incidents in the prescribed manner.
-Appoint and supervise inmate workers; make recommendations for transfer of inmates.
-Make appropriate judgments of needed actions for a wide variety of situations, including laws related to the detention of individuals who have been accused of a crime and those that have been convicted, and adapt responses according to established departmental policy, criminal codes, ongoing training, conditions, and specifics of a situation. Use sound, professional judgment and rely on training and common sense to request assistance for other law enforcement officers, public health or safety officials, emergency medical personnel and/or medical examiners staff.
-Provide responsive, high-quality service to County employees, representatives of outside agencies, and members of the public by providing accurate, complete, and up-to-date information in a courteous, efficient, and timely manner.
Non-Essential Functions
-Attend workshops, law-enforcement seminars, and educational sessions to keep updated on policing strategies, changing laws, and crime trends affecting the County to best serve the community in protecting life and property.
-Coordinate community outreach events and public education programs to foster community relations and to promote a safe community committed to problem-solving and respect for the law.
-Perform other duties as assigned including assisting in special operations, attending meetings and conferences, providing backup for other staff, participating in training, etc.
Physical Demands and Working Conditions: The demands and conditions described here are representative of those the employee must meet to perform the essential functions of the job.
-Frequent standing, sitting, bending, stooping, twisting of the waist, and side-to-side turning of the neck.
-Fine finger dexterity to operate keyboards, weapons, and writing materials.
-Must give verbal commands in a loud, clear, understandable voice, and have excellent vision and hearing.
-Ability to physically subdue a person.
-Work outside at varying temperatures.
-Work in a large facility requiring stamina for walking and staying alert at all times.
-Exposure to criminals and danger.
Supervision Exercised:
The position does not regularly supervise other County employees but may train newer employees and direct the work of administrative personnel.
Knowledge, Skills, and Abilities:
The job requires knowledge of modern methods and techniques of dealing with individuals in custody; criminal attitudes and behavior patterns; the social factors underlying criminal behavior patterns; the social factors underlying criminal behavior; rules, regulations, practices, and procedures in the day-to-day operation and control of the Sheriff's detention facility; and the behavior of people in a custody setting.
This job requires the ability to interpret and enforce institutional rules, regulations, and other policies with firmness, tact and impartiality; observe inmates; to anticipate and avert potential problems; effectively control, direct, and instruct inmates individually and in groups; make accurate risk assessments and inmate classifications; read, speak and write English effectively and interpret written material; make simple arithmetic calculations; use electronic information equipment and specific systems utilized within the department; enter data accurately; use word processing software to prepare clear and concise reports; accurately follow oral and written directions; promote acceptable attitudes and behavior of inmates while in confinement; work with and around a wide variety of people; take verbal abuse; make quick, effective and reasonable decisions in emergencies and take appropriate action to physically restrain violent inmates; work in uniform; work all shifts, including days, evenings, nights, weekdays, weekends, holidays, and overtime.
Education and Experience:
This job requires education and experience equivalent to a high school diploma or equivalent certificate. Some law enforcement or detention experience preferred. The job requires completion of a basic detention officer course or equivalent within one year of hire.
Candidates certified for employment must be willing to undergo and successfully complete an in-depth background investigation, including a psychological evaluation, fingerprinting criminal history check, and a medical examination.
Equal Opportunity Employer, all sexes, ages, and races are encouraged to apply.
40+ hrs/wk, Rotating Shifts, Emergency call-out 24 hrs/day, 7 days/wk
Salary $18.90/hour
Raise after 6 months probationary period
https://media.dojmt.gov/wp-content/uploads/2011/11/standardapplication.pdf
To apply, submit Post Application and Authorization to Release to Beaverhead County Sheriff's Office at 2 So Pacific #16 Dillon Mt 59725.
| Name/Title | Position | Phone | Email |
| --- | --- | --- | --- |
| Paul L Craft | Sheriff | 406-683-3700 | Email |
| William L Knox | Undersheriff | 406-683-3700 | Email |
| Kari Towery | Administrative Assistant | 406-683-3700 | Email |
| Julie Briggs | Coroner | (406) 683-2112 | Email |
| Dale Stewart | Chaplain | 406-683-3700 | |
| Jeremiah Wyrick | Deputy | 406-683-3700 | |
| Ceth Haggard | Deputy | 406-683-3700 | |
| Kenneth Peterson | Deputy | 406-683-3700 | |
| Michael Miles | Deputy | 406-683-3700 | |
| Aaron Bowman | Deputy | 406-683-3700 | |
| David Wendt | Deputy | 406-683-3700 | |
| Austin Cross | Deputy | 406-683-3700 | |
| Souleymane Diedhiou | Reserve Deputy | | |
| Daniel Fields | Jail Commander | 406-683-3700 | |
| Garrett Hope | Detention Officer | 406-683-3700 | |
| Shelby Westfall | Detention Officer | 406-683-3700 | |
| Hagan Hurst | Detention Officer | 406-683-3700 | |
| Quinton Wheatley | Detention Officer |  406-683-3700 | |
| | | | |
| | | | |